Swipe to the left
The History of Hermes Kelly Bag
The Hermes Kelly Bag is a recognizable elegant bag that is iconic to the Hermes industry. Although created in 1936, the bag didn't truly become popular until 1956 when Grace Kelly showcased her alluring bag. It was at that moment the Hermes Kelly Bag would rise to its popularity and become the fashion must-have it is today.
The bag showcases a sense of undeniable style, yet is notably one of the finer and more sophisticated bags on the market, a bag you carry on your arm to fancy events rather than toying around downtown with your friends. And while the bag is remarkably similar to the Hermes Birkin Bag, the Kelly has its own sense of style with a firmer rectangular shape free of slouching. The Kelly is also handcrafted with a single handle rather than two.
1930
A century after the house of Hermès opened the doors of its saddle-making workshops, Robert Dumas created a small bag with straps for ladies. It had a trapezoid shape, two triangular gussets, a sculpted flap, a handle, and good storage space. Nothing fancy, just a neat, plain, functional bag intended for independent, energetic women. The ladies' bag with straps was an emblematic Hermès design: both highly desirable yet anonymous. It simply needed a name.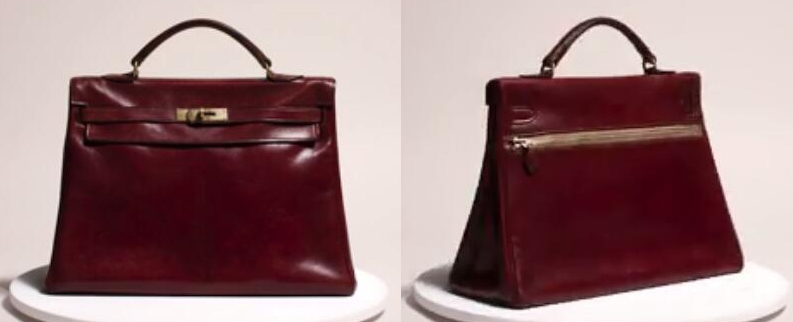 1937
The ladies' bag is sewn backwards and turned inside out, like a glove. Yet, this softening does not affect its fundamental composition: namely, thirty-six leather pieces assembled by a craftsman devoted to beautiful, noble gestures, six-hundred-and-eighty hand stitches, sixteen small studs, a padlock, a swivel clasp and a leather key cover or clochette. Since then, the Sellier and Retourne versions have coexisted. After all, why choose?
1956
What a twist to the tale! Grace Kelly, the Hollywood star who became a princess, hides her baby bump behind her Hermès bag with straps. The picture goes around the world, and the bag is instantly crowned. The Kelly bag is born.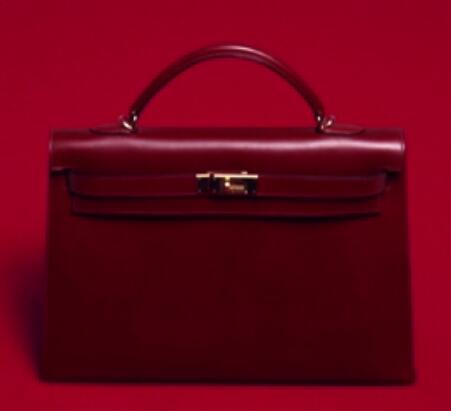 1968
Picture it: May 1968. France is in turmoil, but the Kelly bag keeps its four tiny metallic feet firmly on the ground. It is well-balanced, tranquil and timeless. This radical-chic version in black box calfskin speaks for itself.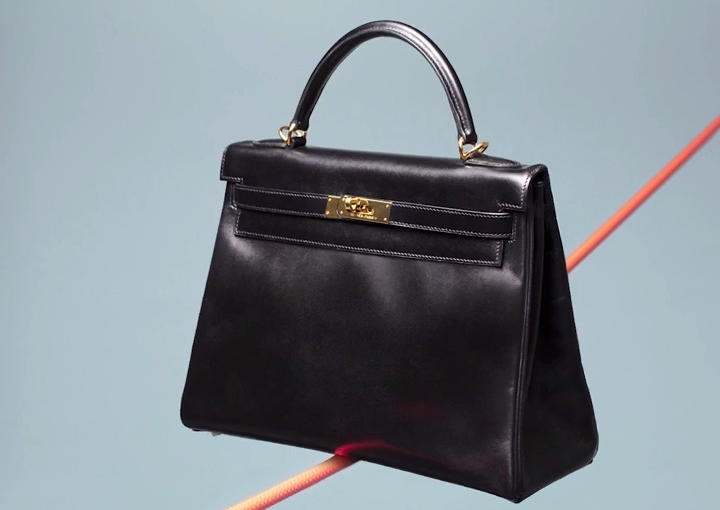 Since 1987
A symbol of exclusivity, the Kelly bag revels in its myriad reinventions: be it in wood, silver plate, organdy, cardboard, chocolate, straw, silk- or wire mesh – like the one created by Leïla Menchari, the window designer for the Faubourg flagship – or even in bread, whose crust was as golden-brown as weathered leather. Special orders unleash craftspeople's creativity: nailed like a fakir, pinned-up like a punk, made of feathers, plush, denim or sheared mink, the Kelly bag invents new twists to its own myth.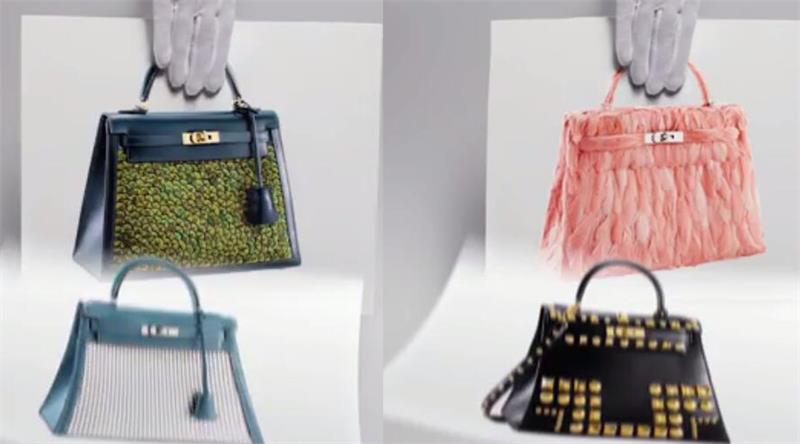 2000
Jean-Louis Dumas, the CEO at Hermès, is also the Chief of Elegant Outline: he lives with a pencil in hand and breathes playful creativity. One of the sitting characters he drew resulted in the Kellydoll bag (French for "What an Idol"). This anthropomorphic, cheerful bag was soon to become an icon and Kawaii mascot in Japan. Arigato, Jean-Louis.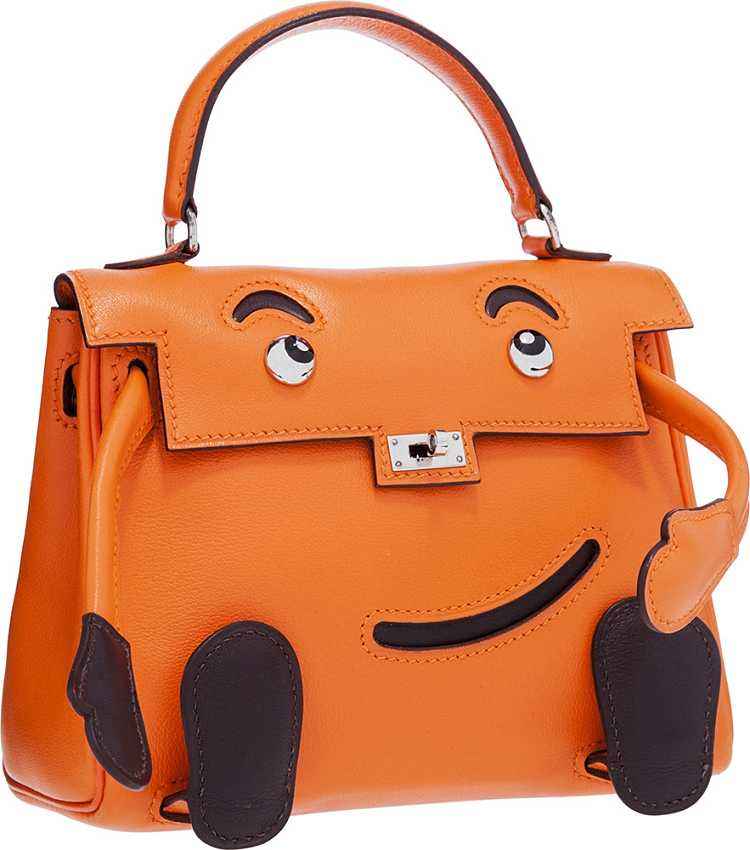 2004
A zipper on a Kelly? How shocking! One might as well draw a moustache on the Mona Lisa. Well, yes, we did: we dared to alter the face of the Kelly by adding zippered exterior pockets in the front. The Kellylakis bag – the Kelly's "enhanced" version – comes in all sizes, be it itsy-bitsy (15 cm) or fit for the Olympics (50 cm).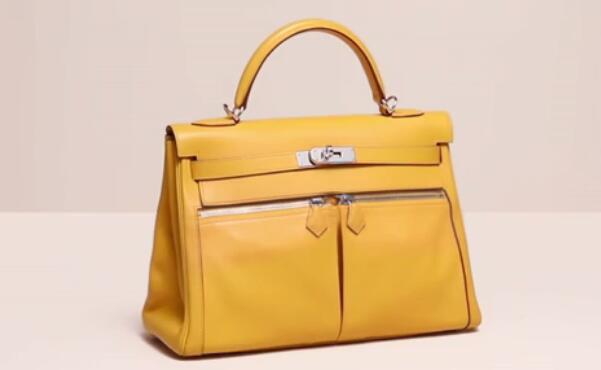 2011
Soft-boiled eggs and wicker basket: the Kelly picnic bag was originally intended for country luncheons on freshly-cut lawns. Marvel at the fine basketry and saddle-stitching: a whole strand of wicker is used and the Barenia calfskin is fixed onto the braided wicker structure by a system of lacing and knots. The chic and charming Kelly picnic bag is a witty nod to its cousin the wicker basket.The chic and charming Kelly picnic bag is a witty nod to its cousin the wicker basket.


2018
H for Hermès, a committed defender of the arts and letters with the Kellygraphie bag.
E for exhilarating variation on the alphabet.
R for reunion of colourful, smooth-grained leather pieces, cut and fitted together down to one-tenth of a millimetre, and perfectly regular on the surface.
M for marquetry in leather.
E for exacting technique customised exclusively for the Kelly.
S for saddle-maker.